Global MMO developer and publisher Bigpoint celebrates the 9th birthday of its popular action-RPG Drakensang Online. Players will be able to celebrate this great milestone with the Dracanian Anniversary Festival starting today.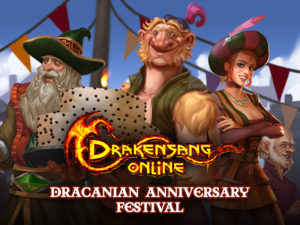 Evil never sleeps, not even for an anniversary – Mysterious forces are trying to spread chaos across the lands of Dracania and players need to stop this by defeating enemies across many regions of the game. The Dracanian Anniversary Festival brings back popular events like the Winter Solstice Festival or Dragan, but it also brings new loot and rewards. A very special reward awaits players who are skilled enough to complete the whole Anniversary quest line: A mysterious box with content for the upcoming big content expansion.
On top of the festivities, the team has also added new rewards and improvements which the players wished for to reduce grind and improve their enjoyment of the game.
Since its launch, Drakensang Online has had over 37 million registered players and has seen more than 230 updates, a great testament to the teams' dedication to deliver quality content to its loyal players. The game team has been constantly working on expanding the world for players to enjoy. Big content updates like Sands of Malice or Rise of Balor have continually introduced new areas, enemies and of course loot, expanding the game-world more and more thus providing an immersive experience for the loyal fans and new players alike.
The developers aren't just calling it a day after such a big anniversary, the next big content expansion is already on the horizon and it will bring the biggest overhaul of the game since it was launched. Amongst others, the expansion will include a brand new story arc, a reworked skill tree, a new approach to loot drops to make item drops more meaningful, over 1000 new item variations and much more.
Until the 14th of August, heroes returning to Dracania can take advantage of the special voucher code GETREADYHEROES to gain a special birthday package full of useful items, including a 3-Days-Deluxe-Membership, 300 Draken and Gem Bags.
A range of merchandise articles for Drakensang Online is now available from https://www.threein.com/drakensangonline.